Latest Journal Entry
category: Anything | March 5 | @222 | comments(4)

It's Not Over I was blown away What could I say It all seemed to make sense. You've taken away everything And I can't deal with that. I try to see the good in life. But good things in life are hard to find. I'll blow it away, blow it away Can we make this something good? (Well I'll try to do to it right this time around) Let's start over, Try to do it right this time around It's not over Cause a part of me is dead and in the ground. This love is killin me But you're the only one It's not over. I've taken all I can take And I cannot wait We're wasting too much time Being strong and holding on Can't let it bring us down My life...
myGALLERY
Latest additions
| | | |
| --- | --- | --- |
| Published on: 03/05/2007 | Published on: 03/05/2007 | Published on: 03/05/2007 |
Profile
Member name:
sexii--punkboi
Full Name:
nobody
Gender:
Male
Country:
United States
Actions:
Send sexii--punkboi an email
View sexii--punkboi's profile
my sexi baby
baby i'll love you until the day i die. ur my everything,my world. im so happy that im with you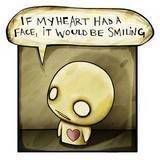 ur the bestest girl a guy could have